Rembrandt & Co.
The Dark & Light of Truth
Originally Published in the Santa Barbara News and Review: 9/8/77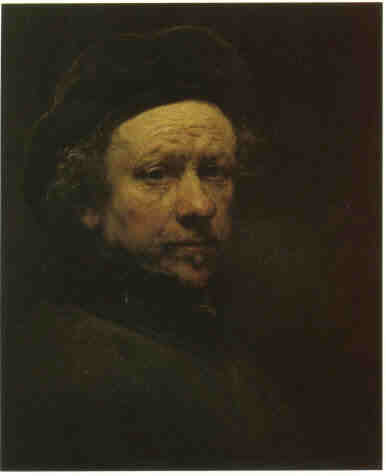 By Dan Gheno
"Poetry tends to give general truth, while history gives particular facts," said Aristotle in Poetics (400 B.C.). Though written thousands of years before Rembrandt van Rijn (1606-1669), Aristotle could easily have been describing the artistís portrait paintings and etchings.
Rembrandt paid little attention to the surface characteristics of his sitters and emphasized the overall emotional truths he saw within. In fact, later in his career, he became so intransigent that some of his pupils, like Ferdinand Bol (1616-1680), sold-out their master by superficially painting their customers in Rembrandtís style, without his often unflattering spiritual overtones.
The current Santa Barbara Museum of Art show, "Rembrandt and His Followers," coordinated by Richard Kubiak and Burton Fredericksen, provides us a valuable opportunity to compare these two approaches to art.
Born of a common miller in Holland, a young, quasi - democratic nation, Rembrandt never catered to conventional norms in his art or physical appearance. The influential historian Filippo Baldinucci said, "The ugly and plebian face with which Rembrandt was ill-favoured, was accompanied by untidy and dirty clothes, since it was his custom, when working, to wipe his brushes on himself and to do other things of a similar nature."
CALM AND CONTROLLED
Judging from the quality of his prints, we would envision Rembrandt calm and controlled. "St. Jerome Reading in an Italian Landscape," the most recent etching in the show, shows a deliberate and contemplative use of the medium.
The foreground is clear ó airy in its austerity ó with lines that gradually form into a seated, cloaked man. Jeromeís head is detailed, as if in a half-tone, which melts within the shadowed overhanging. Within this shape, sinuously spanning the page, we are reassuringly embraced, only to find our eyes settling upon a menacing lion.
The lion protects St. Jerome from outsiders as much as his pointed profile leads us slowly outward, into the delicate background. As in his paintings and drawings, Rembrandtís etchings feature subtle gradations, and he punctuates their effectiveness with sparring dark and light accents.
Moving from the gallery containing the Rembrandts to the one with his followers, we immediately notice the gradations and highlights as well as the spirituality is missing.
One brilliant artist, Jan Lievens (1607-74), however, canít actually be considered a "follower," since he was a contemporary, giving to Rembrandt as much as he received. The two artists even painted on each otherís canvases and were involved in a joint studio effort in their hometown of Leyden. They were also both pupils of Peter Lastman, from whom they learned the conventional and commercially rewarding techniques of the contemporary Italian portraitists who were themselves derivative of Caravaggio.
In their joint effort, "Oriental Head," Lievenís original version is restrained, with great linear definition. Rembrandtís reworking looks denser, richer in its dark tonal quality.
Rembrandt eventually left for the more prosperous port city of Amsterdam, leaving Leivens to his personal whims which got progressively lighter and more buoyant as well as commercial. His "Resurrection of Lazarus" is almost dreamlike with sparse, delicate linework.
PORTRAITS
Rembrandtís great drawing abilities so endeared him to the merchant boom-town of Amsterdam, he was able to break down some traditional portraiture norms. In his first important assignment, "The Anatomy Lesson of Dr. Nicholaes Tulp," Rembrandt violated the idea that everyone must be portrayed with equal importance in a group arrangement. The doctors were painted in varying positions, some concentrating on the lesson, others full face while reading, or half-faced while daydreaming.
This led to his masterpiece, "Night Watch," in which many pedestrians, dogs and peasants were featured more prominently than some of the more influential subjects. Itís no wonder that some of the sitters began paying for their privilege in accordance with the importance they received.
At about this time, his middle period, Rembrandt began overstepping his monetary resources. He had all the trappings of a rich man. He acquired quite a dowry when he married into aristocracy, as much out of love perhaps as a need to vindicate his past. He bought a house, took part in ostentatious carousing, and always bid the highest prices at art auctions, all of which eventually led to bankruptcy.
Meanwhile, he flaunted his tawdry image, hiding uncensored realities within his otherwise socially acceptable pictures. In "The Good Samaritan," look for a defecating dog.
SCANDAL!
Even more scandalous was the affair he carried on with the nursemaid of his only son, Titus, after his wife Saskia died. When he decided to get rid of her for a second mistress, a legal battle ensued. Although Rembrandt is idealistically portrayed an innocent victim in all this, he actively sought to have his first mistress incarcerated for a long period after she tried to hock some jewelry he gave her.
The year of all this tribulation, 1659, Rembrandt did little, if any, recorded work. He lost many students, a terrible financial loss, since students relinquished all commercial claim to their work. It was not uncommon for teachers to sign their names to the work of pupils.
Bankruptcy caused the disbursement of Rembrandtís large student collection as well as his own paintings and etchings. Opportunistically, many publishers and schools reprinted his etchings carte blanche. Some collectors even replaced his signature with anyone of his more popular students. In fact, Rembrandt even lost the right to peddle his own work, under Holland law, and his mistress had to create a dummy corporation as a legal storefront.
The only historically valuable point of this misery is the bankruptcy inventory which documents the many prints Rembrandt personally studied from. The list covers everything from murky Elsheimer and Seghar drawings to stark, Indian woodblocks, and we can chart a course which led Rembrandt to the harsh lights and darks patrons disliked in his paintings but liked in his etchings.
A good example of both his chiaroscuro techniques and his bad monetary management is "Christ Blessing the Children and Healing the Sick," or "The Hundred Guilder Print" as his contemporaries titled it. Jean Pierre Marrette (1694-1774) tells us that Rembrandt himself paid this sum at an auction to keep up the value of the piece.
WORKED AND REWORKED
Rembrandt spent many years, 1641-50, working and reworking this plate to its present state. This scene of Jesus flanked on both sides by a large crowd of cripples has the metaphorical power of a thunderstorm. A dark shadow quietly breaks from the lower left-hand border, builds its presence and then doubles back over the crowd like an ominous, black velvet duststorm caught in a cross current.
Rembrandt prepared his paintings in the same methodical manner he approached this etching: first with numerous drawings, then an etching and finally a grisaille underpainting. He encouraged his students to do likewise, and they often reproduced his studies, step by step. Such reproductive work, like Joric van Vlietís copy of Rembrandtís self-portrait, may seem artless, but many of Rembrandtís destroyed or damaged paintings are only known from such sources.
UNREHEARSED WORK
Despite the impressiveness of his finished and deliberate large-scale etchings, I greatly prefer his light-hearted, ala prima landscapes. In "View of Amsterdam from the Northwest," his strokes are personal, unrehearsed. He lets the open fields melt into a network of short, parallel lines which impressionistically describe the shimmering background.
He kept these plates small so he could carry them in his pocket and work when the mood suited him. He also did many fast, uncomposed facial and figure studies, which are rare because he didnít consider them finished works and made few editions.
Although he did little etching near the end, his fall from fortune brought him back to the streets where he spent many hours painting the portraits of the wrinkled, penurious Jewish neighbors that he loved to render in his biblical studies.
Aristotleís truths speak loudest here, for the anonymous peasants are no more known for their historical importance than the pretentious merchants who sat for Rembrandt. But we can see into their eyes and see the poetry of their inner complexities.