Van DerZee's Craft of Love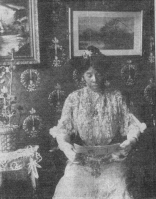 tt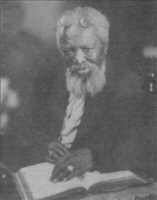 (Originally Published in the Santa Barbara News and Reveiw: 5/25/78)
By Dan Gheno
IT'S HARD TO KEEP a straight face while walking past a typical photography studio and glimpsing the blossom strewn, syrupy-smiled portraits that are hanging in the windows. Good for a quick laugh as we slurp ice cream, but hardly the stuff for an art museum.
Or is it? The Santa Barbara Museum of Art is currently showcasing selections from portrait photographer James Van DerZee. Born in 1886, Van DerZee is a black photographer who worked out of an anonymous studio in Harlem for over 50 years.
Unlike most of his more commercially-minded contemporaries, Van DerZee treated his craft and clients with love. His pictures are not only objective representations of the sitters, they also seem to tell a story or to reveal an emotion.
"I posed everybody according to their type and personality, and therefore almost every picture was different, says Van DerZee. 'In the majority of studios, they just seem to pose everybody the same according to custom, according to fashion, and therefore the pictures seem to be mechanical looking to me."
His dedication was grueling. "After three or four posings, I through for the day, too tired,' Van DerZee sighs in a WNBC documentary from 1971.
His dedication drove him to produce more than 100,000 photographs. Van DerZee kept all of the negatives — mostly portraits. Since much of the collection is composed of large s negatives, it's bulky and unwieldy.
And since the collection is also uncatalogued, most of the faces are nameless. Even though his oeuvre is winnowed down to 50 pieces for this show, it is still uncomfortable to encounter so many untitled compositions as we first enter the gallery
This disorientation flees quickly after we take a quick overview. The faces may seem unfamiliar, but through Van DerZee's benevolent eyes, they warmly welcome us and draw
us into their world as if we were always longtime neighbors.
Into Van Der Zees World
EACH PICTURE WELCOMES US in a different manner. Some beckon us from the humorous angle. Some intrigue us psychologically. The majority lead us in by a visual-compositional course.
In one picture, a chubby, hardy woman hits by her piano next to a luscious box of candy that s open to our eyes. A progression of objects directs our eyes along a zig-zag route throughout the entire picture, cushioned at the sides by pleasant full-blossomed flowers. Before we leave the picture, we seem to have sampled the candy, sniffed the flowers and walked across the entire room.
Another photo brings us face to face with a tough little kid. He is sporting a top hat, black tails and is clinching a cigarette in his fingers. Standing next to a small girl who appears to be wearing a wedding dress, both he and his friend seem to be over-eager, precocious youths we can recognize from our own childhoods.
Several of the photographs are shot from eye level, giving us a high viewpoint to the seated figures and the floor planes. As in Van DerZee's portrait of his cousin, Suzie Porter (see photo above), we're quite literally invited into the laps of his sitters. From this standing point of view, the backgrounds rise around us and embrace us. There's no doubt, Van DerZee's camera sees and records from within each environment, rather than viewing them from the outside.
We see a wealth of textured surfaces and patterns in Suzie Porter's portrait. Yet, even though Van DerZee emphasizes these qualities in all of his photographs, he blurs them out enough to keep the figures dominant.
He works with large negatives so he can more easily edit the harsh details which might encumber the eye on its smooth journey. "I would retouch the pictures and take out the unnecessary lines and shadows so the pictures would always look a little better than they [the sitters] .... ." says Van DerZee in the book The World of James Van DerZee: A Visual Record of Black Americans.
"Shy James"
Until GROVE PRESS published The World of James VanZee in 1969, the photographer was relatively unknown his studio at 272 Lenox Ave. in Harlem. His career was quiet by his own choosing. Shy James he was called.
Isolated from most of his contemporaries, such as Edward Steichen or Lewis Hine, he perfected his art through a self-learning process. Van DerZee experimented with flash powder until he found his own formula, and by the time light meters had arrived, he had already learned to judge light conditions by sight alone.
All of his compositional inroads were paralleled by Steichen and the others. All of his explorations into retouching, superimposition and hand-coloring were likewise masteredd by these same photographers.
Van DerZee's advantage was that he tackled photography on his own, unaware and uninfluenced by many outside sources. He had to bounce ideas off himself, and as a result, his work has a constant striving quality and individualism rarely found.
Each photograph in this show was a fresh search for Van DerZee, chasing after new qualities both in his sitters and his materials. The 92-year-old Van DerZee is still shooting portraits with his antique Bellows camera. As he says, "The body wears out, but the mind don't need to."